So I was going to title this something else even more inane but I thought of something better. But before I had there was this long-winded ramble about how I didn't care (though apparently I did) and I was going to cut the whole thing but it ended up with this cute little meta-ramble bout how I was rambling and I wanted to keep it so I figured I'd just ramble a new ramble and hey look at that, [original text starts.... NOW!.. ok, after the closed-bracket] …and I'm rambling! What a shock. I've been told that my rambling is one of my nicest qualities, but the source may have been biased. And come to think of it, out of context it just sounds like said source is giving me a helluva back-handed compliment. Whatever. Comes from some one who enjoys a good ramble and loves me lots.
And now I am editing more hyperactive babble down to the essentials: …Holy Run-On-Sentence, Batman! My point is, I have been lazy and not getting around to it and now that I'm supposed to be getting on a plane in less than 24 hours I am putting off finishing packing instead so here I am posting on my blog. Go me! Or something.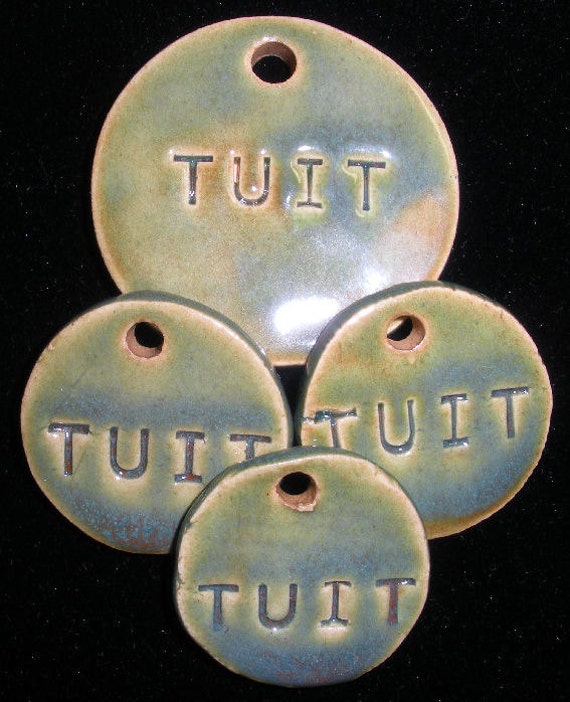 (Hey, check it… I needed some images to interest this post up a notch and I was all "getting around to it" which made me think of the old "get a round tuit" joke so I poked Etsy for an example and BAM, round tuits in much the earthy/hippie/handmade/funky/grungy/yo mama style I'm digging lately AND they are made by a seller right here in my beloved North Carolina. Sweet!)
In theory, this means I should just aim to always have lots on my plate so I can always be putting off getting stuff done by getting other stuff done. In practice, I think that's probably not wise. And in fact, I'm not even that sure I have much of substance to say right now. I must have some experiments around the studio. C'mon, self, photos are not that hard, you iPhone-having nerd. Click, plug in, upload, hokey pokey. Wham bam boom. Other onomatopoeic nonsense.
And then I started taking pictures. And holy shmoly, I've been pretty busy! Who knew? My husband, probably. But not me. Ok, peekture tiems.
At first I just took a quick "here's my desk picture" which is when I started to realize just how much I've had going on up in here. Some details you probably can't actually fully make out: on the left, a pile of beads I scored on Michael's clearance. Ignore the clearance pricetags, none of those were more than $1.99. I had to restrain myself, I have 4x this much in my basket, there was way too much awesomeness on deep clearance. The box you can't particularly see underneath is one of the things I got at my recent possibly-ill-advised-because-that-place-is-dangerously-amazing trip to The Scrap Exchange. Swirly pink shell beads and some smaller glass beads that accent. The various beads still in poly bags (and a few that aren't) are from two recent Etsy splurges. Jeez I shop too much. Butbutbut the pretties! They are a mix of yadanabeads and Fairydustboutique. And now for some close-ups…
Let's see… yellow ceramic beads, neat-o metal findings from Fairydustboutique. Also most of the loose beads here, from one of her bead sampler packs. Those lampwork houses OMG, so cute. I probably never would have bought them on my own but I lurve them. The face I probably won't use, but of the 35ish beads in the pack it's quite possibly the only one. The various weird glittery blobs you see are all UTEE experiments in-progress. And a few things I slathered in light blue pearl craft paint, because I squirted too much out when using it on something else. I love it on the tiny frozen charlotte and the plastic filigree heart, and it's very subtle on the howlite/"turquoise" leaf, but excellent nonetheless. They all will probably want more layers of altering before I use them. Oh! And I almost forgot that awesome little triangly round cab in the upper-right is a polymer clay experiment using a rubbing plate I got at Stone's Education Superstore and artists' chalks. The coloring is all chalks, the clay started out white.
And more UTEE globs, a tiny peek at the amazing chunky flower beads from the yadanabeads order, and tiny rainbowy ones from FDB. The black and white marbled ball, yellow and green focal, stripy pink-brown focal, and orange iridescent focal are ALL from a grab bag of beads at The Scrap Exchange. I have no idea who made them, and I will probably do some altering to some of them (the yellow-green already got the same pearl blue paint, but it's subtle on the bright polymer clay). And the purple rose theeng is a bead from the amazing bead sellers at the Raleigh Flea, started out as an oval covered with shell mosaic… white/pearly on the side you see and black/abalone on the back. The rose is a random Provocraft rub-on I've had for a bazillion years (or more like ten) that I bought because they were super cheap on clearance but I never knew what to do with them til tonight and I spied them in the unending tide of unpackings and cruft and went AHA! (That was a long sentence. I feel all out of breath now.) I slapped it on there and "sealed" it (maybe) with crackle medium, which I'll probably accent with purple paint all up in the cracks. Or maybe black. Or gold. Or brown.
Gosh I took a lot of pictures! Ok, they get simpler though… this one is just a shot of a bead mix I started throwing together for a new bangle stack which I won't make until after I get back on the 26th, because I am out of my usual wire and seriously should finish packing… Sheesh. Silly me. It didn't show up that well, but that group of four green beads in the middlish is supposed to be showing off an experiment in sanding and painting plastic beads. It worked gangbusters, I'll have to write up more on that later. Oh, and a braided theeng. Random fibers I grabbed from around the room, just because I was inspired. I'm thinking it'll be a section of a necklace someday. Includes some silk salvaged from a $3 blouse from Goodwill. Aw yeah, I'm crafty.
A seashell that I swear is not this big and is the same one from two angles. I cropped all scale out of it. Oops. It's not even two inches across, gonna make a nice focal. Found on my last trip to a beach, recently shmutzed up with UTEE and glitter and alcohol ink and crackle medium and Lumiere paints. Yep.
Beads ready to be made into bridesmaid gift bangles for my cousin-in-law-to-be. Well. For her to give to her bridesmaids, anyhow. My first commission, I'm very excited! And nervous, because I know the buyer and all three… no, two of the three intended recipients. So I'm like "OMG THEY MUST BE PERFECT." Silly inner critic. Hush. They will be perfect, cuz she wouldn't've asked you to if she didn't love your style. (IC sez: oh. right. fiiine. make sense! :P)
Keys I altered while on Skype with my mom. Oxidized, sanded, oxidized s'more in some cases. I am shocked and pleased at how nice they look.
Here is the avalanchemageddon of keys that I left in my wake. Just so you don't get any kind of impression that I have some kind of snazzy organized studio. I mean, I work pretty hard at trying to keep it in some semblance of order, but yeah… when I get all "OMG I must make SOMETHING or I will EXPLODE" I end up essentially exploding anyhow, or at least causing my stash to look as if it exploded.
And finally, me trying to show off my earrings from FancifulDevices because a) they were on my desk when I was in a photo frenzy and b) when I opened the package I was surprised at how big they were! Somehow her picture made them look a bit daintier and smallish. The first picture came out pretty cute of me but didn't show the earrings much at all, then the second one was better (considering it's 10pm so the lighting is artificial, and they are iPhone selfies from some one who almost NEVER does self portraits of any kind) but I'm all seriouslike. So you get both.
And now that I've spent whatIdon'teven like an hour and a damn half writing this post and it's past my bedtime, I'm going to take those earrings and put 'em with my suitcase to pack up in the morning and go the heck to sleep. Ciao fer now, arrivederci seeya-in-March-y.
(Or hopefully sooner but I have no idea if I'll post while I'm away. Plus I was bustin' mad rhymes and got all excited at how that worked out.)